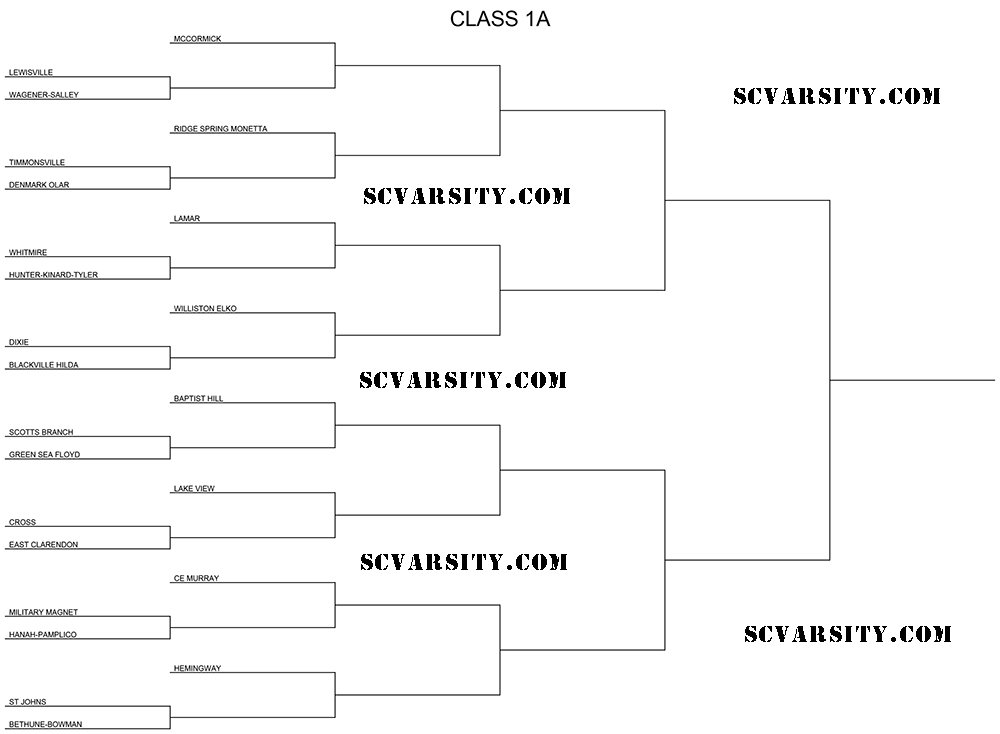 The SCHSL Class A 2017 State Playoff Bracket was officially posted Saturday, and there aren't many surprises to this years teams. The bracket looks eerily similar to the bracket from 2016, with a few changes to team's positions due to region records. After the Islanders 42-50 loss to Baptist Hill earlier this month, Baptist Hill cruised to a Region IV Championship on Friday with a win over Military Magnet. With this win, Baptist Hill secured the number 1 seed and a first round bye. So what does this mean for the Islanders?
The position of a number 2 seed and first round home playoff game are given to the Islanders for finishing second in their region. Islanders will face an "at-large" team in Bethune-Bowman in the first round that finished with a 6-4 record on the season. The Islanders boast a 5-1 all time record against Bethune-Bowman, with their last match up resulting in a 12-6 victory for the Islanders in 2009.
GAME PREVIEW
Despite an impressive W/L record, the Mohawks of Bethune-Bowman lacked any impressive wins on the season. The Mohawks finished 4th in a difficult Region V (won by C.E. Murray) with a region record of 1-3, recording their only Region V win against and 0-4 (4-7 regular season) Branchville team. The key match-ups between Bethune-Bowman and other strong teams Region V opponents left the Mohawks struggling for offense, including a 40-0 loss against former Islander rivals Cross Trojans. BBHS shows offensive prowess in non-region games such as Military Magnet and North, scoring 40 and 48 points respectively. In fact, the high powered Mohawk offense scored 40 or more points in 5 of their 10 regular season competitions. Similar to a familiar yet difficult Baptist Hill team, the Mohawks like the high flying air attack with strong play at QB and wide receiver, taking advantage of a weak position on most 1A defenses (corner back/safety). Strong defensively play, which has been a strong suit, especially in front of a home crowd, for the Islanders all year long, will be key in their first playoff match-up.
LOOKING AHEAD
If the Islanders were able to get past Bethune-Bowman, they would be rewarded with a trip to Hemingway High School to face the #1 seeded and #1 SC Class A ranked Tigers. A difficult, yet achievable, task lies ahead for St. Johns in the second round, who would face the Region VI Champion Tigers for a second straight year in the SCHSL State Playoffs. Hemingway eliminated the Islanders from the playoffs (30-25) at home in the second round of last year's playoffs, so bad blood does exist between the two teams. Hemingway would be coming off a 10-0 regular season and a bye week to face the Islanders in the second round. Should the Islanders get past a tough Tigers team, it seems realistic to expect a trip to Greeleyville to face Region V Champion C.E. Murray War Eagles (9-1).
Following the rest of the Lower-state bracket, an intriguing second round match up between Cross (5-3) and 2016 SCHSL Class A State Champion Lake View (7-2) could be in order. The winner of that game could prospectively face either a red hot Baptist Hill team or a hard-nosed Scott's Branch team, which defeated the Islanders earlier in this season. Lake View and Hemingway are thought by many to be on a collision course for the Lower-state Championship game. St. Johns could be offered a rare opportunity to shake things up with a victory over Hemingway in the second round.
As for the Upper-state portion of the bracket, 2016 SCHSL Class A State Runner-Up Lamar which lost to Lake View in the State Championship game last season, are back with a vengeance coming off a 10-0 regular season and a Region II Championship. Region I Champion McCormick (6-4), Ridge Spring-Monetta (7-3), and Region III Champion Williston-Elko (8-2) all pose major threats to Lamar's road to State Championship. However, the Silver Foxes of Lamar look dominant and can be expected to make a run to a State Championship match up with the Lower-state champion at Benedict College in early December.
DATES
First Round: Nov. 3rd
Second Round: Nov. 10th
Third Round: Nov. 17th
Lower/Upper State Championship: Nov. 24th
2017 SCHSL Class A State Championship: Dec. 1 @ Benedict College